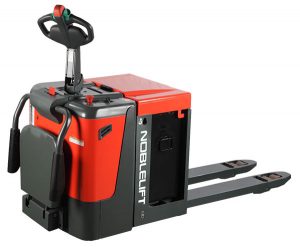 • Capacity of 5500 lbs, AC drive
• Fast travel speed 5.6mph laden/7.5mph unladen
• 24V/375AH battery & name brand key components
Parameters
Type sheet for industrial truck acc. to VDI 2198

Distinguishing mark

1.2

Manufacturer`s type designation

 

PT  55P

 

Fixed

Foldable platform

1.3

Power(battery, diesel, petrol, gas, manual)

 

Battery

1.4

Operator type

 

Stand

Pedestrian (Stand)

1.5

Load Capacity / rated load    

Q (lbs)

5500

1.6

Load centre distance  

C(in)

23.6

1.8

Load distance ,centre of drive axle to fork  

X (in)

38.0

1.9

Wheelbase

Y (in)

62.8

Weight

2.1

Service weight

lbs

2387

2090

2.2

Axle loading, laden front/rear

lbs

3421/4466

3014/4576

2.3

Axle loading, unladen front/rear

lbs

1947/4

1606/484

Tires, chassis

3.1

Tires

 

Polyurethane (PU)

3.2

Tire size,front

φ x w (in)

φ9.8×3.2

3.3

Tire size,rear

φ x w (in)

φ3.2×3.2

3.4

Additional wheels(dimensions)

φ x w (in)

φ4.9×2.4

3.5

Wheels,number front/rear(x=driven wheels)

 

1×+2/4

3.6

Tread, front              

b10 (in)

20.9

3.7

Tread, rear 

b11 (in)

14.4/20.2

Dimensions

4.4

Lift height

h3 (in)

4.7

4.9

Height of tiller in drive position min. / max.

h14 (in)

48.6

39.6/56.9

4.15

Height, lowered

h13 (in)

3.3

4.19

Overall length 

l1 (in)

105

83.5

4.20

Length to face of forks 

l2 (in)

59.7

38.2

4.21

Overall width

b1 (in)

31.1

4.22

Fork dimensions 

s/e/l (in)

2.4/6.8/45.3

4.25

Distance between fork- arms   

b5 (in)

21.3/27.0

4.32

Ground clearance, centre of wheelbase

m2 (in)

1.0

4.33

Aisle width for pallets 48 x 40 (L x W)

Ast (in)

121.4

100.4

4.34

Aisle width for pallets 48 x 32 (L x W)    

Ast (in)

115.9

94.9

4.35

Turning radius 

Wa (in)

99.2

78.0

Performance

5.1

Travel speed, laden/ unladen 

mph

5.6/7.5

5.9/7.8

5.2

Lift speed, laden/ unladen

fpm

7.5/ 11.6

5.3

Lowering speed, laden/ unladen                     

fpm

10/ 9.4

5.8

Gradeability, laden/ unladen             

%

8/ 10

8/15

5.10

Service brake

 

Electromagnetic

Motors

6.1

Drive motor rating  S2 60min                       

HP

3.9

6.2

Lift motor rating at S3 10%                          

HP

3.0

6.3

Battery acc. to DIN 43531/ 35/ 36 A, B, C, no

 

Electromagnetic

6.4

Battery voltage, nominal capacity K5                   

V/ Ah

24/ 375

6.5

Battery weight  (minimum)

lbs

660

6.6

Energy consumption acc. to VDI cycle

kWh/h

1.83

1.75

Ional

8.1

Type of drive control

 

AC- speed control

8.4

Sound level at driver's ear acc. to EN 12053

dB(A)

69
Features
1. Powerful high quality AC drive unit ensures high performance and low maintenance. The truck does not roll backwards on ramps.
2. High traveling speed saves time and increases the handling capacity.
3. EPS- Electric power steering system.
4. Ergonomic tiller and handle bar.
By travelling with the forks backside, one hand can ergonomically reach the grip, the other holds the tiller. For both left handed and right handed operators.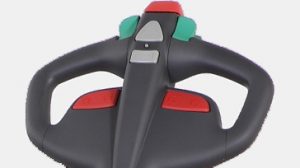 5. Key-switch, emergency switch and battery discharge indicator.
6. Diverse storage areas for stretch foils, documents or clipboards, etc..
7. Sideways battery compartment for quick and safe battery exchange.
Because the battery compartment is lifted with the forks, various exchange heights are easy to reach.
8. High performance 3PzS DIN standard battery for long or multiple shifts.
The battery rollers minimize the forces required for exchange. Battery can be removed to the left or right side (selection).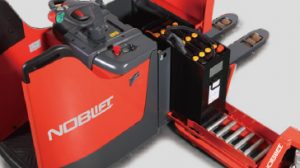 9. Fixed or foldable platform with protective arms. The cushioned platform ensures safety in all travelling conditions.
10. Roomy, ergonomic and safely fixed platform with rubber bumper.
11. Foldable platform for higher flexibility in narrow spaces.