The economy, electric pallet truck PTE45X is the ideal choice for short-distance transportation of goods. Featuring a new unique design with powered by a 36V system with powerful traction and compact design for confined space operations. The side-battery replacement makes it easy to exchange the battery for multi-shift operation.
Parameters
Type sheet for industrial truck acc. to VDI 2198
Distinguishing mark
1.2
Manufacturer`s type designation
PTE45X
1.3
Power (battery ,diesel, petrol, gas, manual)
Battery
1.4
Operator type
Pedestrian
1.5
Load Capacity / rated load
Q
lbs
4500
4500
1.6
Load centre distance
c
in
23.6
23.6
1.8
Load distance ,centre of drive axle to fork
x
in
38.0
40.7
1.9
Wheelbase
y
in
53.6
56.4
Weight
2.1
Service weight
lbs
891.0
902.0
2.2
Axle loading, laden front/rear
lbs
1727/3564
1727/3575
2.3
Axle loading, unladen front/rear
lbs
693/198
693/209
Tires, chassis
3.1
Tires
Polyurethane (PU)
3.2
Tire size, front
Æ x w
in
Æ 9.5×3.1
3.3
Tire size, rear
Æ x w
in
Æ 3.3×3.3
Æ 3.3×4.3
3.4
Additional wheels(dimensions)
Æ x w
in
Æ3.9×1.6
3.5
Wheels,number front/ rear(x=driven wheels)
1x +2/2;+2/4
1x +-/ 2;+2/2
3.6
Tread, front
b10
in
19.7
3.7
Tread, rear
b11
in
14.4/20.2
Dimensions
4.4
Lift
h3
in
4.5
4.9
Height of tiller in drive position min./ max.
h14
in
34.6/50.8
4.15
Height, lowered
h13
in
3.3
3.3
4.19
Overall length
l1
in
68.9
71.7
4.20
Length to face of forks
l2
in
23.6
4.21
Overall width
b1
in
28.7
4.22
Fork dimensions
s/e/l
in
2.4/6.8/45.3
2.4/6.8/48
4.25
Distance between fork- arms
b5
in
21.3/26.8
4.32
Ground clearance, centre of wheelbase
m2
in
1.0
0.9
4.34
Aisle width for pallets 800X1200 lengthways
Ast
in
90.6
93.3
4.35
Turning radius
Wa
in
63.4
66.1
Performance data
5.1
Travel speed, laden/ unladen
mph
2.5 / 2.5
5.2
Lift speed, laden/ unladen
fpm
5.9  /9.8
5.3
Lowering speed, laden/ unladen
fpm
9.8 /7.9
5.8
Max. gradeability, laden/ unladen
%
4 / 10
5.10
Service brake
Electromagnetic
Electric- engine
6.1
Drive motor rating  S2 60min
HP
1.2
6.2
Lift motor rating at S3 15%
HP
1.1
6.3
Battery acc. to DIN 43531/ 35/ 36 A, B, C, no
No
no
6.4
Battery voltage, nominal capacity K5
V/ Ah
36V/ 85Ah
6.5
Battery weight
lbs
220
6.6
Energy consumption acc. to VDI cycle
kWh/h
0.28
Additional data
8.1
Type of drive control
DC- speed control
8.4
Sound level at driver`s ear acc. to EN 12053
dB(A)
69
Features
Long Tiller Design
Small Turning Radius
Easy Maintenance
High Performance
Powerful Battery
Robust Design
Capacity 4500Lbs
Advantages:
Long tiller design for easy steering
Unique 36V system with high performance
Powerful battery with 6 hours using time
Bigger supporting wheels for high stability
Side-battery replacement for easy battery change
Robust chassis and apron for long service life
Metal battery cover for better protection
Compact ad smart design for easy maintenance
High Performance
Comfortable operation
Unique 36V system
High performance side-battery-replacement
Unique new 36V system
36V system with high performance of the battery for longer operation approximately 6 hours
Optional Battery Charger
Standard built-in charger and optional external charger for different customer needs.
High performance side-battery-replacement
High performance 36V battery, with side battery replacement easy for battery replacement and maintenance.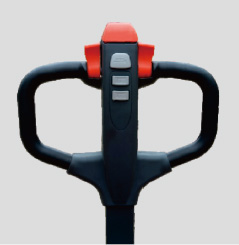 Long tiller design for ergonomics and safety
Ergonomic long tiller design for comfortable and efficient operation, keep a safe distance for the operator ensures safety
Integrated hydraulic pump
One-piece integrated hydraulic pump with compact size.
Bigger Steering wheel for stability
The bigger steering wheels ensures high stability for the pallet truck.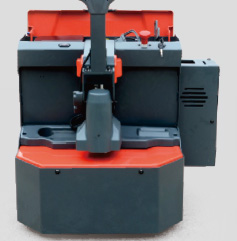 Robust and reliable design
The robust chassis with the strong thick apron protects the truck and the components against mechanical impact from outside. The metal battery cover protects the battery well from outside too.