Best Forklift Scenes in Hollywood Movies
Forklifts are the ultimate behind-the-scenes work equipment. They are present in every factory and freight terminal all over the world.  But yet, forklifts are seldom seen by the public buying the goods they move. At MasterLift, we are blissfully unaware of the hard work that goes into moving materials to manufacturers and merchandiser. Forklifts are ubiquitous, indispensable and easily ignored. Nearly every month, we get rush calls from shippers who forgot to order forklifts to load or unload their goods; the lifts are so easily forgotten, even by people moving the goods!
For this reason, Masterlift believes that ALL forklifts need better media attention, and so we decided to make a list of the top five forklift scenes in our favourite movies and television programs. We limited our focus to scenes where the main character drove or were driven by a forklift, and most of these movies are available online today. And now without further ado, our top five forklift movies and TV shows:
Yours, Mine & Ours
Yours, Mine & Ours is a 2005 American family comedy film, and a remake of a 1968 film of the same name. Directed by Raja Gosnell, it stars Dennis Quaid and Rene Russo as two parents who, when they move in together, have eighteen children! The forklift scene is a bit of physical comedy in the middle of the movie as serves as a worst-case-scenario parenting moment.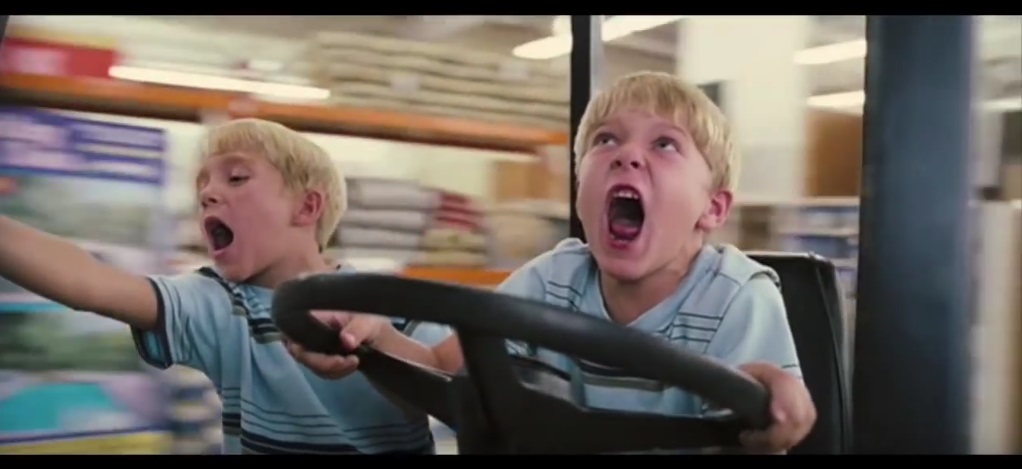 While shopping for home renovation supplies in a big box hardware store, the twin boys (Bridger and Brecken Palmer as Otter and Ely Beardsley) steal an electric forklift and cause mayhem in the aisles in a minute-long joyride which ends with actor Dennis Quaid (playing Frank Beardsley) being dumped into a mini pool display. You can enjoy the whole scene in the clip below.

Anyone who knows forklifts will recognize the situation as being more than a little unrealistic; the Liftow electric materials handling forklifts require the operator to have their feet on the floor pedal at all times. Simply removing your foot from the peddle will stop the machine's forward action. But regardless the scene is funny, and well put together. The way its shot and edited works really well because most of the camera angles are presented as P.O.V. from either the Beardsley Boys' or their dad's perspective, which personalizes the action.
Ride Along 2
Ride Along 2 is a 2016 American buddy cop comedy film directed by Tim Story and written by Phil Hay and Matt Manfredi. It is the sequel to the 2014 film Ride Along. The film stars Kevin Hart and Ice Cube who travel to Miami Florida for fun, chaos, and their signature crime-stopping shenanigans. Universal Pictures released the film on January 15, 2016. Like the original film, this sequel was panned by most critics but was a box office success, grossing $124.6 million worldwide. The movie's popularity is due in part to the fantastic freight-loader action sequence that is one of the few 'transcending moments' of the film.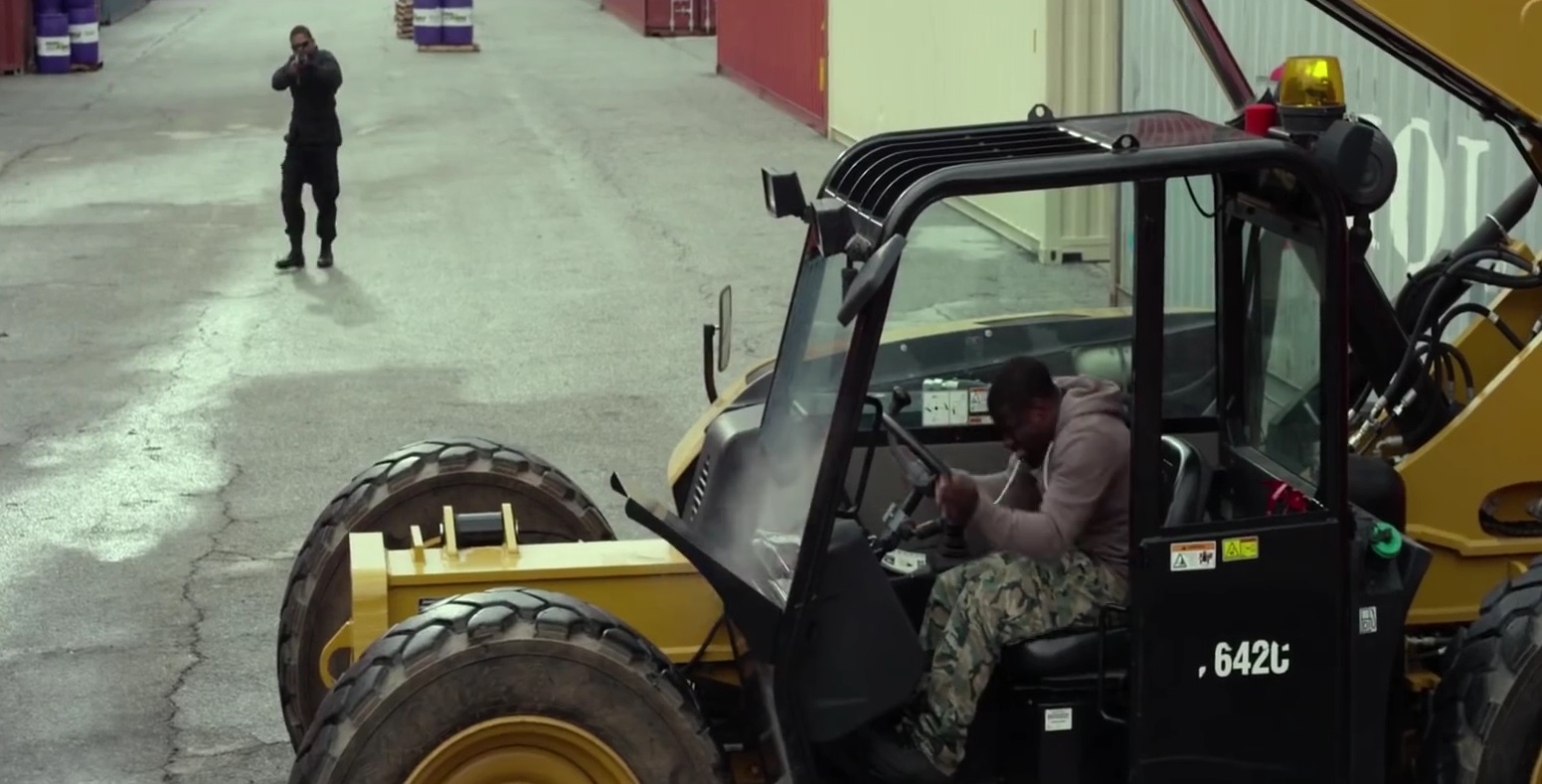 The freight loader fight scene in Ride Along 2 occurs near the end of the movie in one of the two main action finales with the criminal mastermind and his henchmen. The bad guys are engaging in human smuggling and their operation is disturbed by Kevin Hart who operates the freight loader like a true heavy equipment savant. The actor picks up a container and drops it in the danger zone, meanwhile the loader is attacked and Kevin has to duck down behind the steel work to avoid getting shot. But the loader is oddly bulletproof; its windows never break and the rig appears completely undamaged at the end of the sequence, despite how many times its bulk blocked the bad guy's bullets.
Hereafter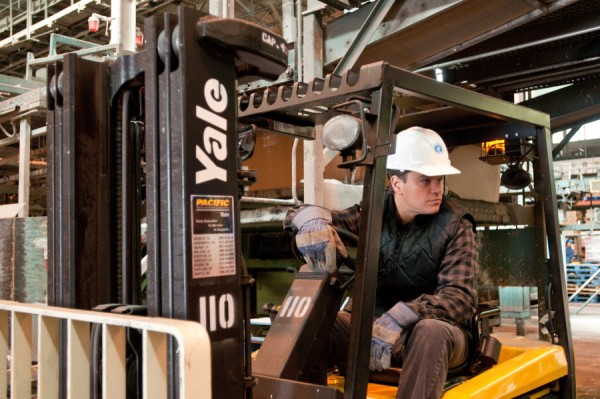 Clint Eastwood's 2010 movie Hereafter stars Matt Damon as a blue collar worker who drives a forklift at his manufacturing job site.  So in this respect, the storytellers use the heavy equipment as more of a character embellishment, and less of a plot device.  The forklift is a part of Matt Damon's job and everyday existence.  He doesn't ride the vehicle in minute-long chase scene, or use it to plow through bad guys, but rather its a way to show a blue collar guy doing shift work and being subject to the whims of economic forces when he gets laid off, and millions of Americans can relate to that.
Matt Damon drove the battery-powered Yale forklift with 5,000-lb (2,250-kg) lifting capacity and operator-monitoring ShockWatch equipment in three scenes. The official records at the actual sugar processing plant where the scenes were photographed, show that the actor really was trained to operate the forklift machinery. The plant supervisors confirm he knew how to log onto the forklift, as well as the basic functions of the lift.
Breaking Bad – TV Series, 2013 Ep. 5.04
In the fourth episode of the fifth and final season of the hit American TV series, Breaking Bad, Jesse Pinkman helps himself to a pallet containing four barrels of methamphetamine precursor in an industrial supply depot using a Raymond EZ-C Forklift, which he handles like a professional.
The scene showcases the Raymond EASi™ REACH Fork Truck, or "Reach-Fork® Truck" by their trade name.  Judging by the type of battery gate, its a Raymond EZ-C Forklift with AC Drive and DC Lift.  The 'C' designation means it has an external reservoir, and it has larger masts for the notably higher shelving in modern consumer goods transfer storage depots.  The machine has dual stage lift pumps, large manifold, allows for auxiliary and steering at the same time.  These machines were made and distributed across North America between 2002 – 2006.
Smokey and the Bandit
An early model forklift stars in the classic 1977 Hal Needham movie, Smokey and the Bandit.  Bandit (Burt Reynolds) almost kills Snowman (Jerry Reed) with a Hyster H 60 XM forklift while loading kegs of beers in a distribution warehouse before (illegally) driving the beer across state lines. Notice how the early model forklifts have no posts around the driver's seat or a safety cage of any kind to protect the driver; there isn't even any fire protection or a fire extinguisher onboard!
Also the canary yellow pneumatic 6000 lb diesel forklift is probably much too large for loading beer kegs into the tractor trailers. This is an industrial grade forklift for lifting very heavy loads, but it makes for a memorable scene in this classic Burt Reynolds movie.  Snowman tells Bandit that he can't drive a forklift to which Burt replies, "I can drive any forking thing."
Do you know another great movie with a memorable forklift scene? Let us know in the comments.
Next time you need a forklift, be it for a rental situation or a new addition to your fleet the experts at MasterLift are ready and waiting to assist you. Of course rental and sales are not worth much without product support and we have the finest forklift mechanics available to repair or maintain your machine at your shop or ours. Whether it is a major repair or simply routine maintenance, MasterLift technicians have you covered. Contact us today for our MasterRewards rental program and start earning points today!