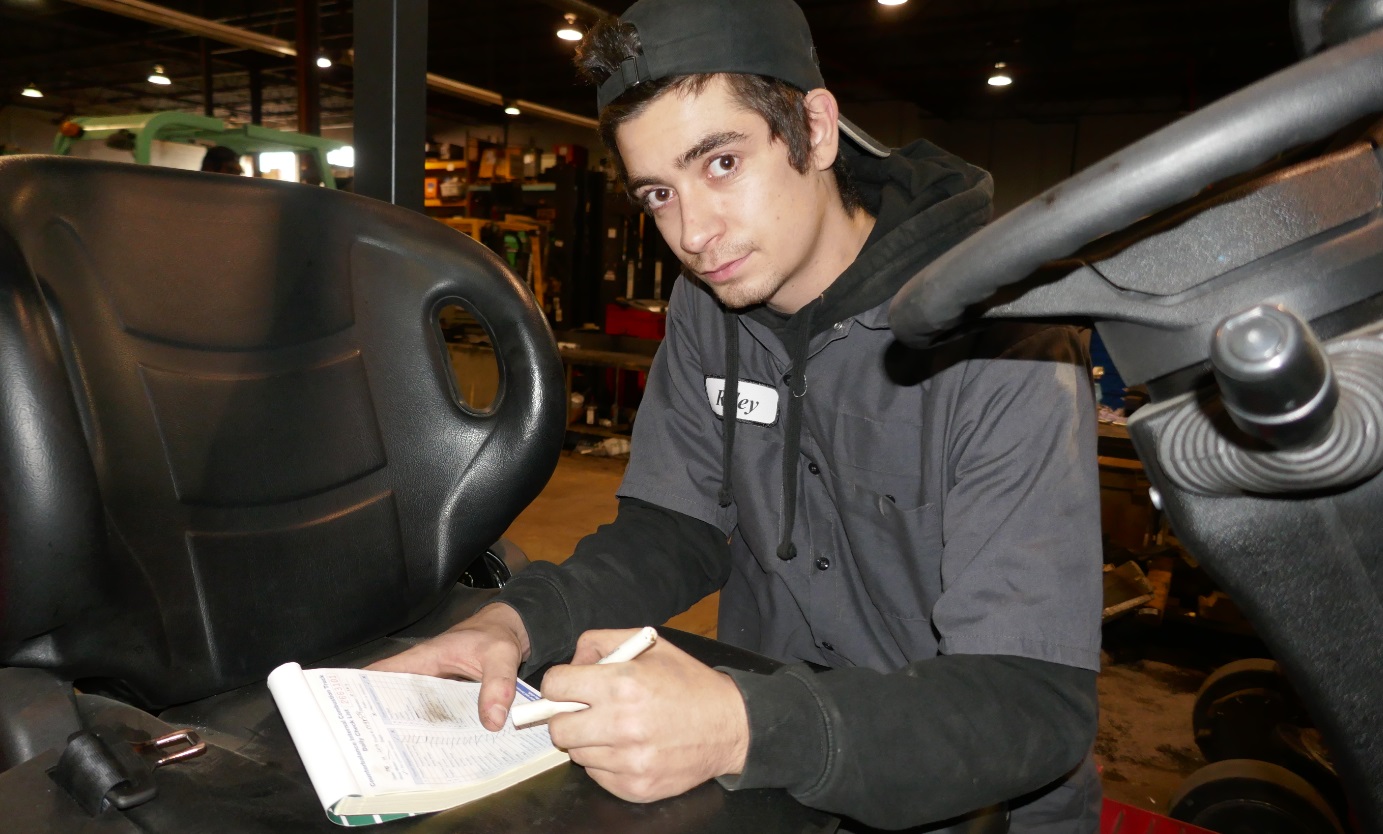 Are Forklift Inspection Apps Replacing Paper Pads?
Daily Forklift Inspection Reports are a Safety Shield for Operators, Management and the Public
Forklifts are ubiquitous everywhere freight moves, and that's pretty much anywhere things are bought and sold in bulk and where such commodities are placed in storage. Every item in the supermarket probably took a ride on a forklift at some point in their journey to the store shelves. Some of these transit points are more dangerous than others and some forklifts are statistically more unsafe than others, but all forklift trucks require thorough inspection before each shift by the operator. We'll have a look at options available to company's from the traditional paper pad solution, new onboard systems, to a new forklift inspection app.
In the eyes of occupational health and safety entities around the world, a forklift needs to be inspected frequently for safety and maintenance reasons. Having an itemized checklist helps ensure that everything on the machine is working properly and it also becomes a blanket against liability as the practice saves lives. An average of 100 employees are killed each year in forklift accidents and as many as 95,000 total forklift accidents occur on an annual basis.
Arguably the majority of these incidents are preventable, and one way of making a proactive effort to prevent accidents is by complying with the required forklift inspection checks. Occupational Safety & Health Administration (OSHA) in the USA and Occupational Health & Safety Act (OHSA) in Canada and around the world are clear; a before-shift forklift inspection must be completed by the operator to ensure the safe operation of the machinery.
What is a Forklift Inspection Checklist?
Detecting operational issues by completing routine forklift inspections can be an important preventative action taken by all operators. Furthermore, by maintaining proper records, forklift operators can play an important role in accident prevention. And, good managers are very aware of how the paper sheets can help shield the company from potential discipline, penalties, and fines from local government inspectors.
OSHA and OHSA state that forklifts must be inspected either daily, or before each shift in cases where forklift trucks are in round-the-clock use. If a problem is found, the problem must be reported and the forklift may need to be removed from service immediately.
What Exactly Should Be Checked In A Routine Forklift Safety Inspection?
While there is not an exact mandated list, certain safety entities and forklift manufacturers have provided lists that are comprehensive enough to cover what best practices. Whether a fleet manager prints the sheets themselves or uses a forklift inspection app, these criteria can be tailored to each location and situation as required.
Check fluid levels (oil, water, and hydraulic fluid, for example)
Check for leaks, cracks and visible defects everywhere on the forklift
Check mast chains visually; avoid the use of hands
Test mast chain tension by lifting the load backrest to eye level—the mast chains should be level and any tilting may signify stretching or broken rollers
Check tire condition, pressure, and look for any cuts or gouges
Determine fork condition, remembering to check the top clip retaining pin and heel
Ensure load backrest extension functions properly
Check functionality of finger guards
Ensure safety decals and nameplates are legible and match the forklift model
Check that the operators' manual and logbook are present and legible
Ensure the operators' manual compartment is clean of debris
Test all functional safety devices, such as seat belts and horns
Check the brakes, steering controls and other operational items for proper function
Electric Forklift Inspection Checklist
Here are some additional items typically on a checklist for electric forklifts:
There is no fraying or exposed wires in cables or connectors
Battery restraints are functional
Electrolyte levels are proper
The hood latch is operational
Internal Combustion Forklift Inspection Checklist
Here are some additional items typically on a checklist for internal combustion cushion and pneumatic forklifts:
Engine oil and engine coolant levels are proper
Air filters are clean and in place
The radiator is free of cracks or other defects
The hood latch is operational
Narrow Aisle Forklift Inspection Checklist
Here are some additional items typically on a checklist for narrow aisle trucks:
On-truck and off-truck chargers are functioning
No damage, bend, or looseness in the forks or backrest
Brake pedal is effective
No leaks can be detected
Paper Checklists
Forklift operator's daily safety checklist can be purchased at just about every forklift service dealer. In this system the operator makes notes and keeps a carbon copy in the booklet. Also available are the thin plastic pouches which are designed to be mounted on the forklifts to contain the logbooks. This system keeps the data with the machine while at the same time sharing it with front office.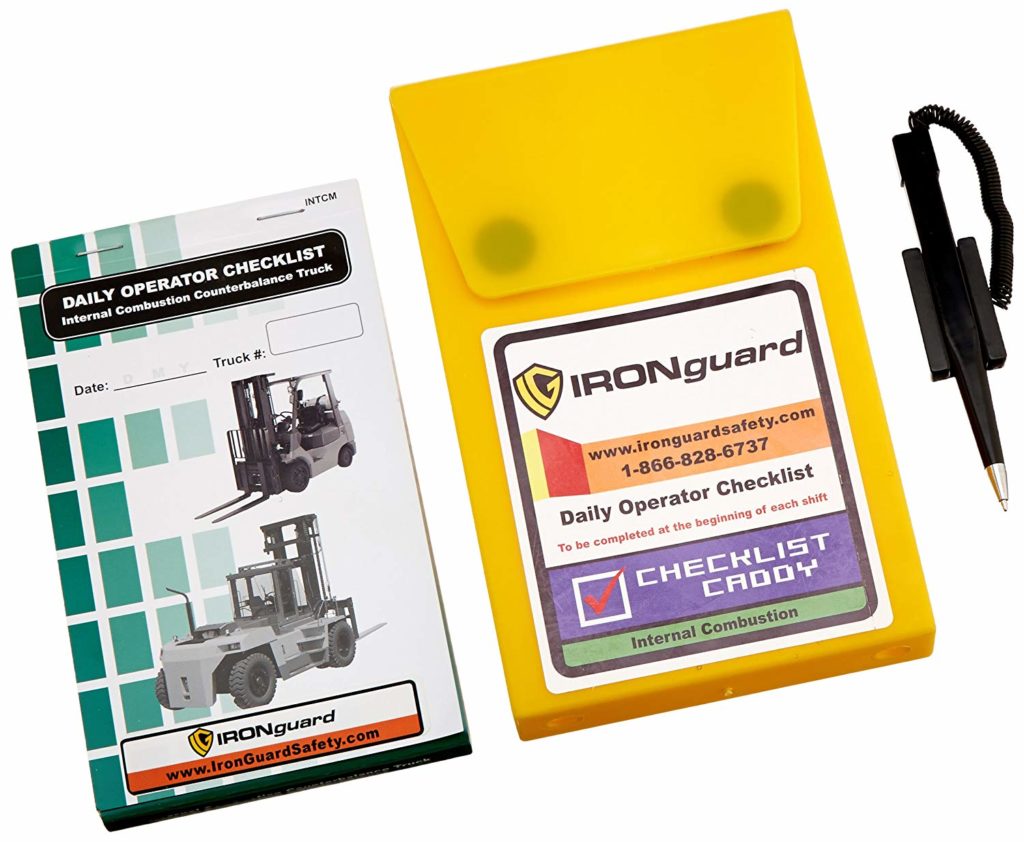 There are a variety of different of forklift inspection checklists available and they range in price and format. The typical carbon paper pad seen above is most common choice. Although a year's supply of the paper pad solution is about forty dollars, sometimes companies will even make and print their own safety checklists, customizing the questions to perfectly match their equipment and work scenarios. Currently, this is the most popular manner in which daily forklift safety check are performed and logged but going "paperless" is the next trend.
On-Board Safety Check Systems Appear On Some New Model Forklifts
Some manufacturers, for an additional cost, supply new forklifts with on-board systems that include "shock" and operational data and do include a daily inspection checklist. Safety specialists and forklift training experts are not yet convinced that this is the right solution however. They point out that realistically, how many operators would repeatedly climb on and off the machine to complete the circle check? It's feared that operators would remain on the forklift and out of convenience simply enter "yes" for all items, creating a very serious scenario. These on-board solutions, when made available by the forklift manufacturer, can also add as much as another thousand dollars to the forklift list price.
MasterCheck Forklift Inspection App Allows Forklift Operators To Do Safety Inspections On A Handheld Device
The new MasterCheck forklift inspection app is designed to automate the process of the required forklift inspection checks every shift, and to provide the supervisor with important operator and forklift performance analytics. Operators complete the forklift inspection checks quickly and virtually on a mobile device or iPad and simply click "save" to have the record of that check sent to their supervisor.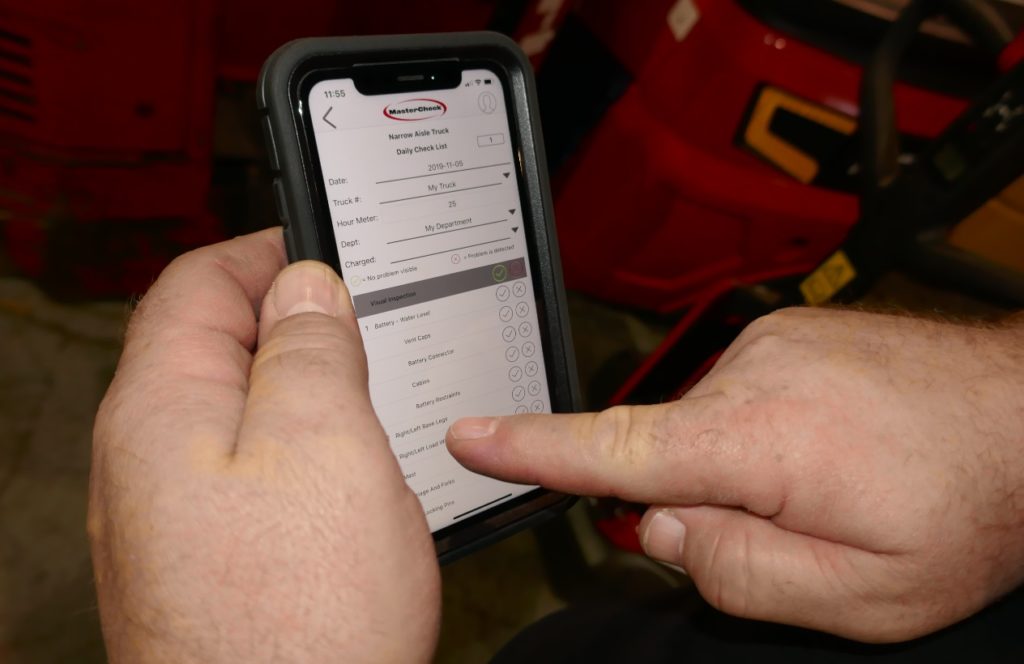 Once completed, the forklift inspection data is saved on the device and in the cloud. The supervisor may customize notifications, communicate with operators, digitally modify the inspections and track all forklift causes for fails and more on the web-based Supervisor Dashboard. Quick, simple and efficient, the app reduces time wasted on paperwork, and is completely paperless. It's also more economical than the paper pads which makes the option a very attractive one.
The MasterCheck app is available as a free download in a "single use" version in Apple's app store and Google Play or a company can set up all forklifts and operators with unlimited departments and locations in the full version with a free 90 – day trial at www.mastercheckapp.com.