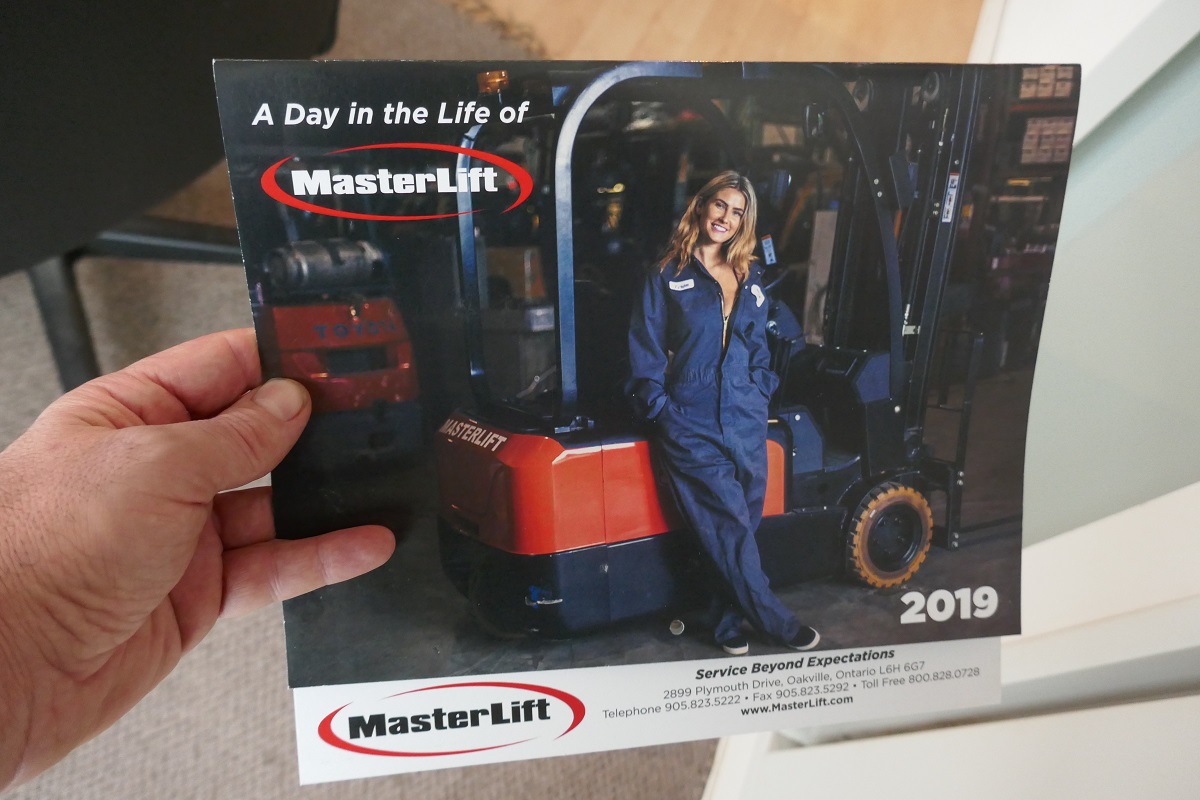 Masterlift 2019 Calendar has been Created and Published
Masterlift has handcrafted a 2019 print calendar filled with original pictures and explanatory captions. This functional office decoration is now being distributed to our clients, suppliers and creative co-conspirators.
In autumn 2018, the art department came up with the idea to put our most interesting female friends in pictures alongside of our latest model forklifts, at work in our clients' businesses. The idea is to showcase feminine subjects in masculine settings and try to capture something the art director calls 'curious beauty'.
To that end we asked our rental and service clients if we could photograph inside their busy locations, and by presenting twelve different locations we hoped to demonstrate the diversity of our clientele. It worked. And that's just one of the more interesting things about our presentation.
Why did Masterlift choose to produce a print calendar?
While digital calendars provide lots of flexibility, and streamline real-time scheduling and time management, there's something special about a paper calendar. It's tangible, it's easy to use, and you don't need a device or WiFi to see and use a print calendar.
Masterlift's 2019 Calendar is very practical with big boxes for each day and special occasions and holidays marked out for each month. The calendar is purposely built for busy people, and posting this near your workstation can focus staff, increasing productivity while improving moral in every department it decorates.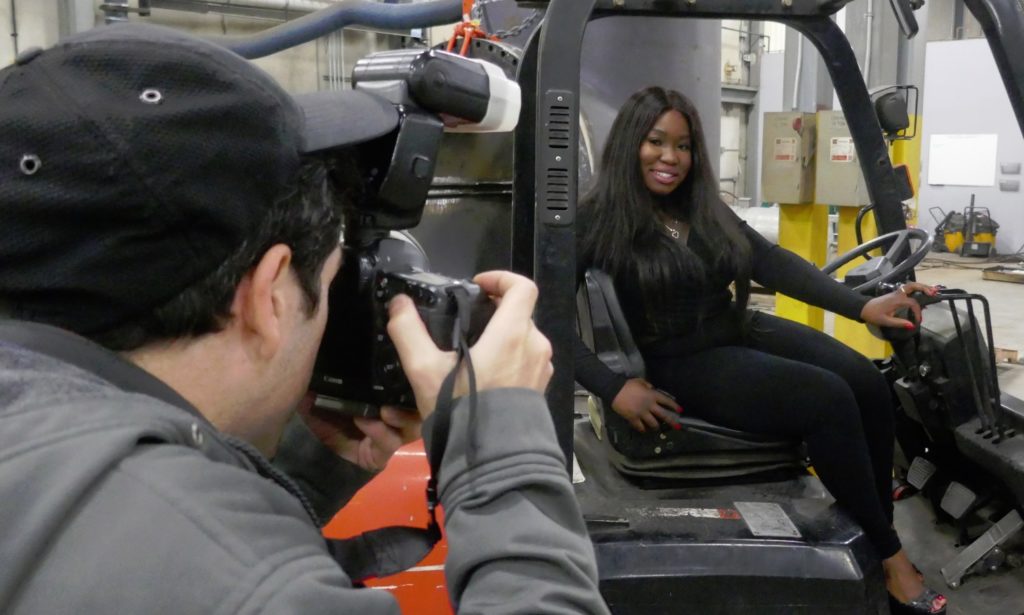 Just as the photographs suggest, every Masterlift forklift job site is different with unique equipment requirements. In some cases the lifts are owned by the business and Masterlift services the machine, in others, we show businesses renting the equipment they need. Some of our clients simply supplement their existing fleet during a busy season, or rent equipment for a construction site; it doesn't matter what the need, Masterlift offers a wide variety of equipment for every application.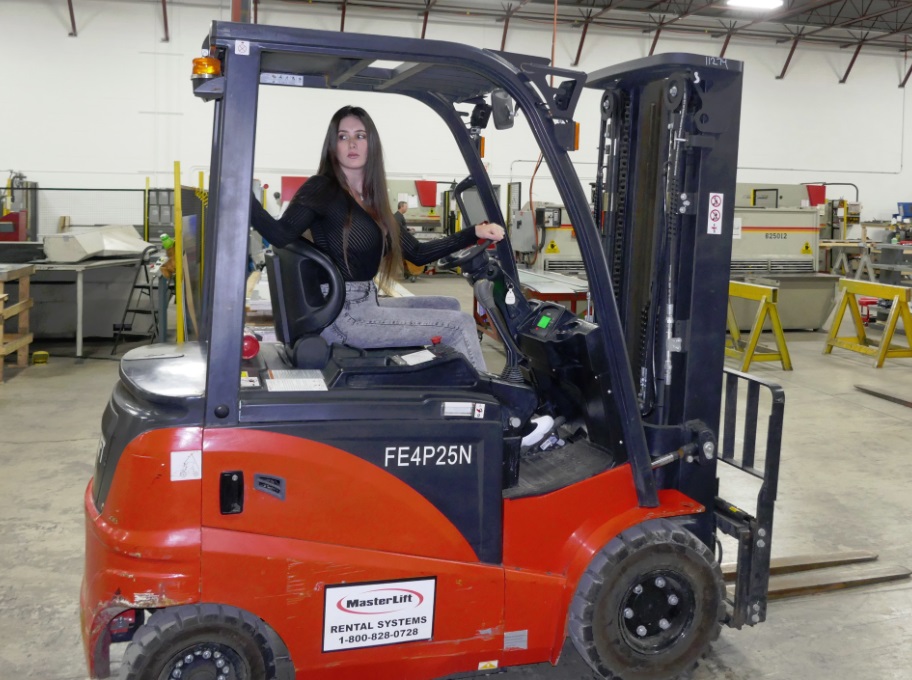 Masterlift 2019 Calendar Displays our Growing Forklift Rentals Fleet and Service Clientele
With almost six hundred working units, Masterlift's forklift rentals fleet is one of the largest and most diverse in Toronto. We service busy factories and warehouses between London including Mississauga, Etobicoke, Oakville, Burlington, Brampton through to Oshawa on the east and Barrie on the north.
Masterlift offers an aggressive three year / 3k hour replacement strategy, which ensures our forklifts are the newest most efficient in the industry.
Masterlift is not just an equipment dealer, we are also a forklift service company that is well known for providing quality innovative service products to promote low overall running costs. Our service and repair teams service on site and we routinely swap machines to ensure maximum up-time on the job. Whether our client's business needs are for reach truck for tall warehouse shelving, or an indoor/outdoor forklift for unloading trucks, or a heavy-duty forklift for your toughest jobs, Masterlift has many options and expert staff to consult and help you need to make an informed choice.
Below Lauren (@hehchick) helps build Hub Climbing's super climbing gym in Mississauga. This location has a fifty foot tall climbing wall and is almost 30,000 square feet in size.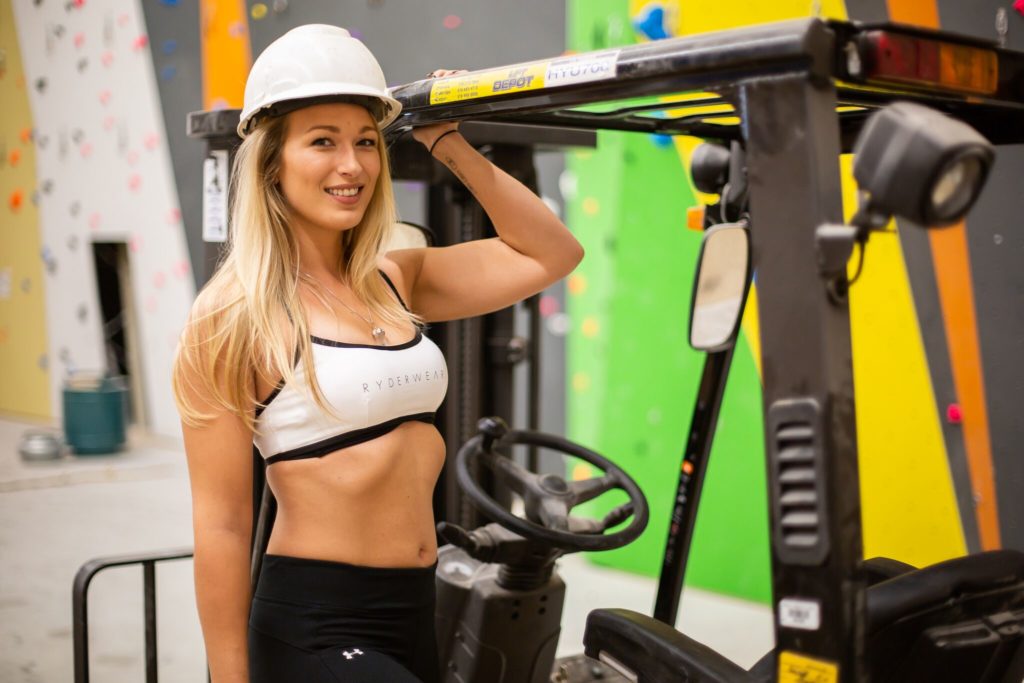 Beauty goes beyond art. Beauty is only present in good art, and when the beholder feels some emotion. In the context of art, beauty is the gauge of successful communication between participants – the conveyance of a concept between the artist and the perceiver.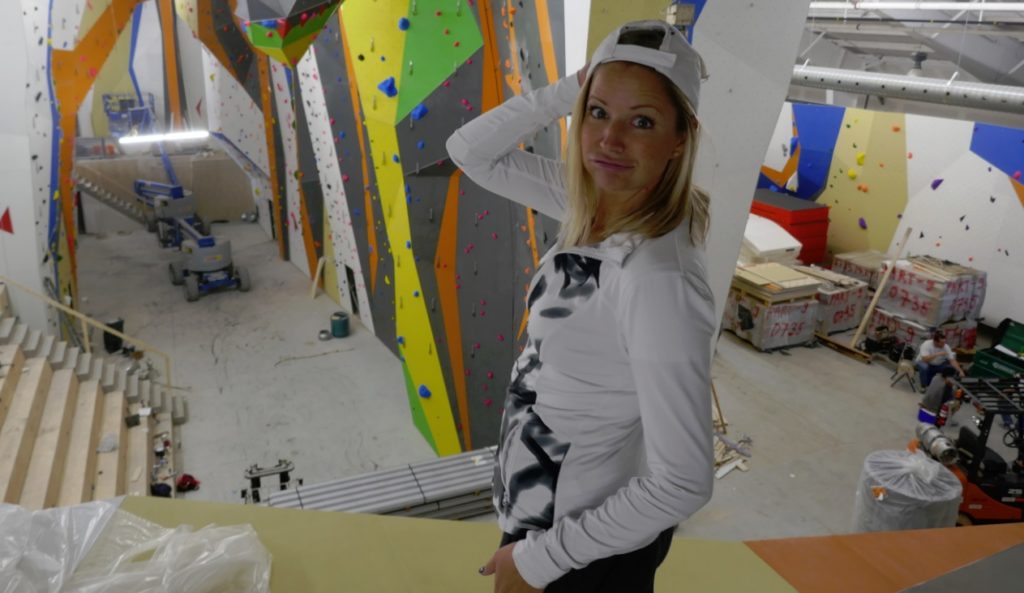 We had a lot fun photographing the images for this project, and it really shows in the pictures.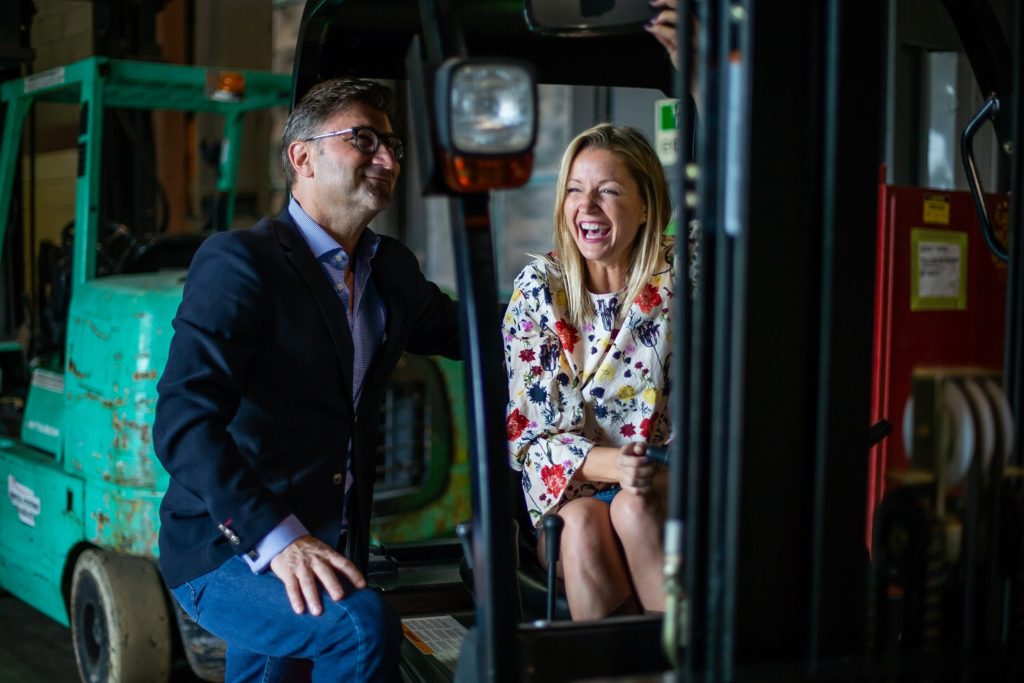 Above is Gary Wilson with Shannon Tebb from Shanny in the City, an influential event planner in Toronto. She was one of the three models that the company photographed on that first Thursday in September as we tried to capture 'summer'.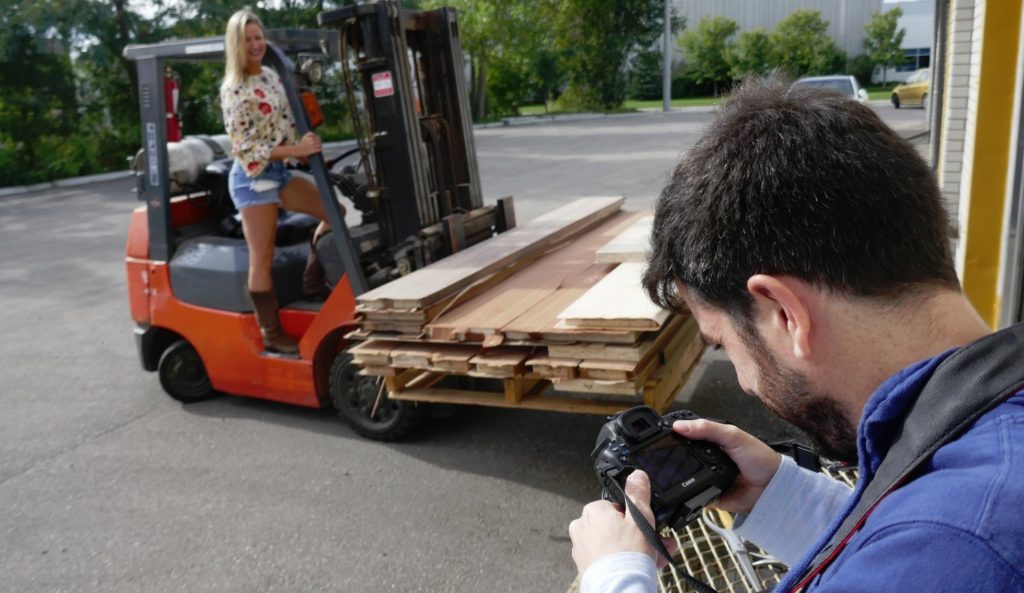 We got lucky that day as the weather was hot and warm and we could get images with green trees in the background. Shanny was photographed at Rosehill Wine Cellars in Etobicoke, Ontario. At this location the forklift moves wood on their busy shop floor as they make and ship custom wine cellars all over the world.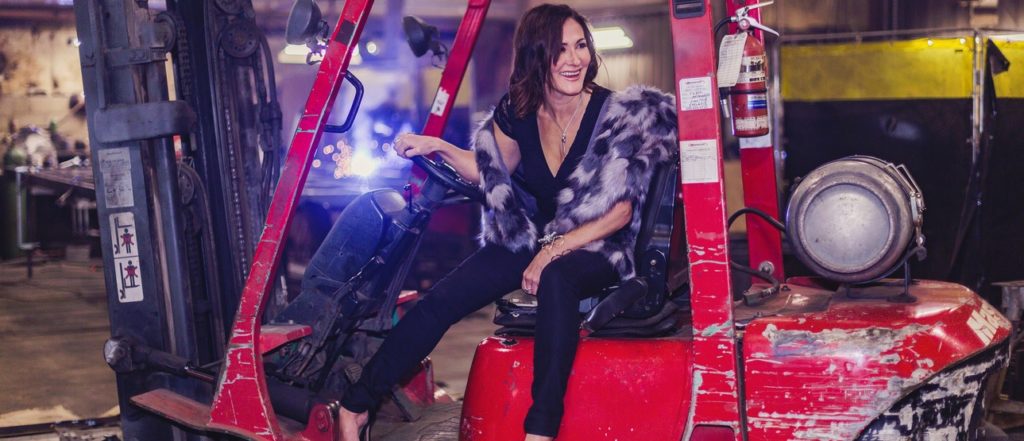 Above is Laura Bilotta, an AM 640 radio show host posing at Dan's Welding for the photograph that would become our December 2019 featured image. This is a very interesting photo location in Burlington. The business has provided welding and custom fabrication services in this area since 1960, and we could see them working with a wide variety of metals including steel, stainless steel, aluminum, cast iron and more. We set up our photo shoot at the back of their 18,000-square-foot shop beside purpose-built machines for shearing, rolling, bending, and drilling holes in metal, and all around our photo shoot there were welders working in the background.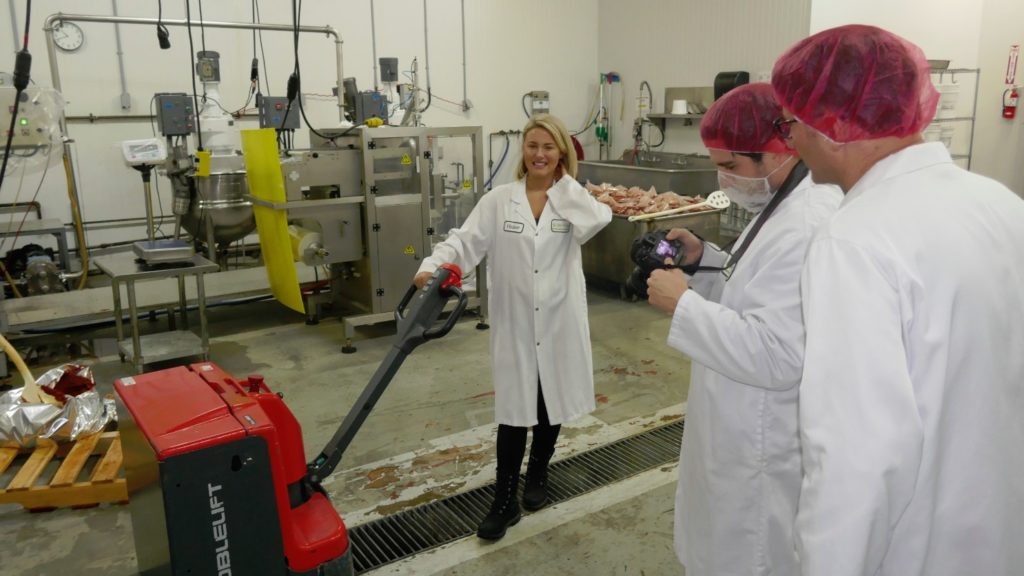 Maria Flo posed beside a Noblelift PTE40L walkie pallet truck at Delmare Quality Foods inside one of their industrial kitchens. This business makes world class marina sauces, chopped garlic, hummus, garlic spreads, pesto, dips and caramelized onions served at major restaurant chains.
The photographer for most of our calendar project was Joel Levy and many of images from this Sept 2018 shoot are posted on his website Joel Levy Photos dot com.
It's an art project, and you can order your copy of the print calendar anytime; simply CONTACT US and put '2019 print calendar' in subject line. We look forward to hearing from you and as always please contact Masterlift for all of your forklift needs.