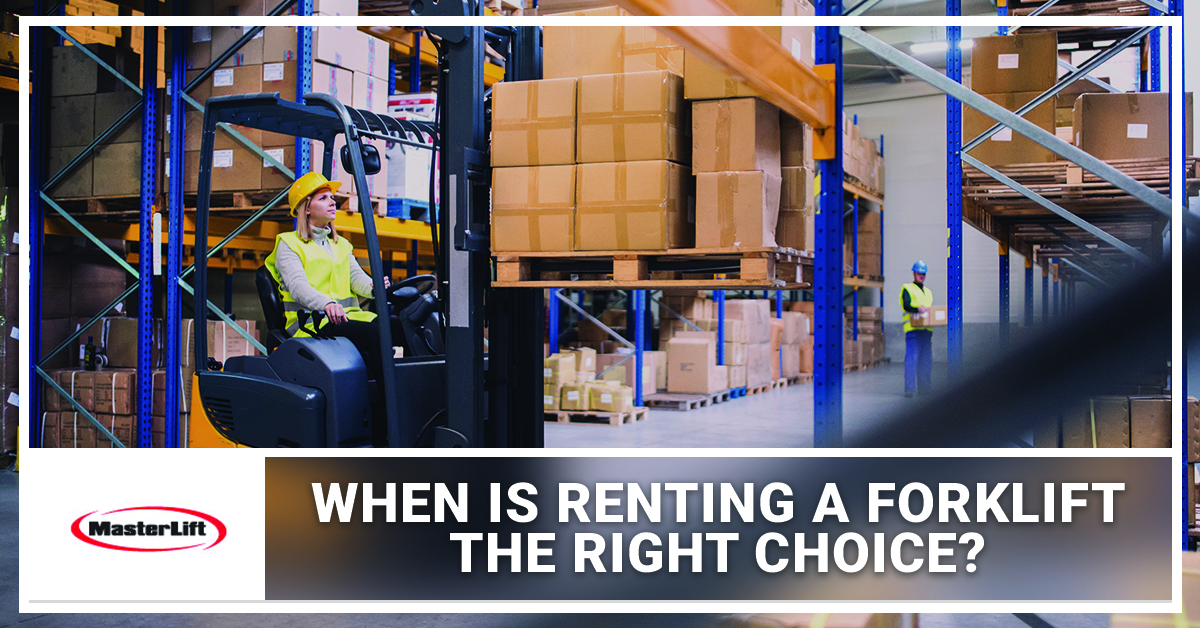 When is Renting a Forklift the Right Choice?
There is something about taking care of a fleet that can make a business owner's skin crawl. Regardless of the size of your fleet there are huge costs associated with running a tight operation. It can make someone wonder why it is so expensive to run machines. At Masterlift, we get the pressures of running a fleet and can offer solutions to help, no matter how big your operation. We offer forklift rentals, sales, and maintenance for businesses of all sizes. No matter if you need a single pallet jack or a fleet of electric material handlers, Masterlift has you covered.
To Rent Or Buy the Forklift?
This is the question that many business owners struggle with, is it more economical to buy a whole new fleet or rent? Well the simple answer is, that depends. Yeah we know…
Let's say that you have decided to rent your fleet, which for your operation may make sense. Many small and large companies alike, rent their material handling fleet because it is the best solution for their situation. Incidentally, If you have any questions about whether you should rent or buy, our trusted team of advisors is always willing to help. We have your best interests at heart. Rentals are the backbone of the heavy equipment industry. Many species of heavy equipment are extremely expensive and costly to maintain. When a company decides to rent, there may be a maintenance package included with all of the rental fees, which, depending on what could happen, will make renting much more economical than a purchase. So to rent or buy? The verdict is entirely based on your unique situation.
Benefits of a Rental Forklift Fleet
The bottom line is, your forklifts make you money. Whether they are transporting goods in a warehouse, material handling in an industrial setting, or just a utility tool in a shop, your forklift is a valuable part of your organization. A rental fleet is the ideal solution for many of those businesses needing one or many forklifts. At Masterlift, we take great pride in furnishing our customers with the finest forklifts in the industry, and as an added bonus we have some of the most talented forklift mechanics in Toronto. As we discussed before, when you rent your fleet from Masterlift, we have maintenance packages that are available. In fact, most of our clients don't have to worry at all about their fleet, we take care of everything but the operation. We take care of the periodic maintenance as well as breakdowns, meaning less space and manpower you need to devote to maintenance. When you rent from us you do not have to worry about being without a machine while there is a breakdown, we will bring you a new forklift or repair the one on your jobsite.
Operator Training
While we can't find you a certified forklift driver, we also offer a wide variety of forklift training courses. These should be a cornerstone of your forklift training program and we can offer this training at your location or at Masterlift.
Short Term Rentals
Not everyone needs a fleet and not everyone needs a long term rental. There are many situations that call for a few days, maybe even a few hours worth of work. Who wants to buy a forklift for that? At Masterlift, we can get you a short term rental to your location in no time at all, ensuring that you do not miss a deadline or get behind in production.
Rentals May Be Your Solution
No matter what your situation may be, a rental contract from Masterlift is the ideal way to solve your equipment budget in 2019. No matter where you are in Southwestern Ontario, we have you covered with a location near you. With a vision for the next century of providing our clients the finest equipment in the industry, you can trust Masterlift for all of your material handling needs. Be sure and contact us today whether you are looking to rent, purchase, or simply need parts for your forklift, we have what you are looking for. If you are still undecided please contact one of our representatives and they are able to use their expertise to recommend the perfect solution just for your circumstance.